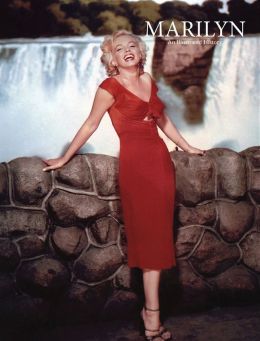 My dad bought this for me yesterday. He said he found it in a bargain bin at a bookstore. The fact that it hasn't even been out a whole month and it's already in bargain bins for half price certainly says something about the quality of this book, in my opinion.
The text is just a small introduction and a timeline of events in Marilyn's life. It's basically just a brief introduction into her life and work with nothing any of us haven't already seen before.
The quality I think is very poor. A lot of the photos are very pixelated, like they were found online and enlarged by simply clicking-and-dragging the image to make it bigger and the paper feels like paper you'd buy for your printer at home. One photo from HTMAM I think is photoshopped (I think the glasses were photoshopped onto her face) and another (from
Green Grass of Wyoming
) I don't think is of Marilyn at all (see attachments below).
I just wrote a review of it on Amazon, if you want to read it
CLICK
If you know someone who's just starting to learn about Marilyn, this book might be a good gift for them, but I'd skip this one if I were you.
EDIT: I just did some Googling, the pic is of Peggy Cummins in
Green Grass of Wyoming
.