i dont know what you all know about biorhythms they are basically a way of predicting human behavior. They are supposed to predict the days of greatest physical, emotional and intellectual well-being. But even more important, as a useful way in forewarning of those days in which precautions should be taken so that potential accidents might be avoided.
Biorhythms are based on the theory that human behavior is influenced by three basic rhythms or cycles of energy: the physical, which has a period of twenty-three days and regulates an individual's vitality and stamina; the emotional, which has a period of twenty-eight days and regulates creativity and sensitivity; and the intellectual, which has a period of thirty-three days and regulates the memory and decisionmaking process. The cycles begin at birth, working independently of each other, but having a cumulative influence on man's behavior. Each cycle is divided into halves. The first half is when energy is readily available and can be channeled into successful ventures. The second half is a "recharging" period, during which it is advisable to refrain from strenuous efforts. Because of the different lengths of each cycle, all types of combinations can occur; for example, one may be overflowing with physical energy while intellectually and emotionally drained.
I found a chart showing Marilyns biorhythm on the day she died- according to her birthday.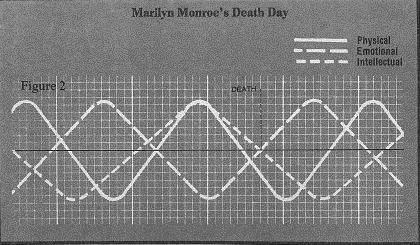 This chart illustrates the position of Marilyn Monroe's Biorhythm cycles on the day of her death. An interpretation of this chart could be that Monroe's emotional and intellectual state were responsible for her decision to commit suicide at a time when her physical resistance was low.
It would be interesting to see all the other people who were with Marilyn on that day to see what their 'biorhythms' were like. Specifically Eunice Murray to see if she was predicted to decieve others....
What do you all think?