OK, this is easy and most people can get to five or less degrees to Marilyn, as in you met someone that met her, or they met someone that met with her/worked with her. For someone of her fame and stature any connection is ok, as in just a meeting, not necessarily worked with etc.,
OK, Alanma has us all beat here in one degree
But, for example I can do this in about three degrees (surprisingly!). My hubby is a guitar player, has been for a long time and he played behind Earth Kitt when she visited NZ in the 80s. She met Marilyn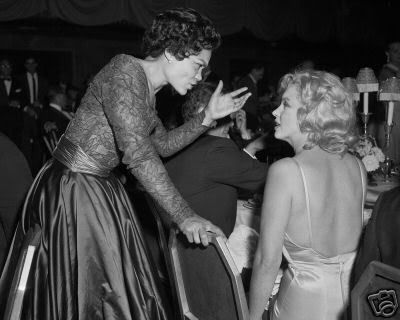 Maybe you know someone who knows someone from the movie business . . . . . ? its actually amazing easy to do, but it take some thinking about. Give it a go!
I can actually do this twice because my hubby went out with a woman, who is an actress, who worked with Mickey Rooney in a film that was made here in New Zealand (Black Beauty - filmed in the 80's I think). So that is 4 degress.
So its a good start if you think about who you know in music or movies . . . . wanna try?